Caring for Troops Packup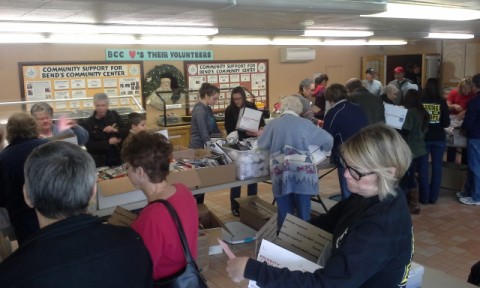 During the month of November 2014 our post collected over 500 pounds of donations to send to our deployed troops. All of these items were then transferred to Caring for Troops in Bend (Caring for Troops). Caring for troops solicites names of deployed soldiers, airmen, sailors and marines with ties to Central Oregon and subsequently sends each and every one of them a care package.
Packing days are the second Saturday of every month (except December).In November of 2014 over 200 care packages were packed and shipped. If you know of a deployed service member, visit the link above and submit their name for a package!
If you would like to help pack these boxes come join us at the Bend Community Center at 10:00am on the second Saturday of the month.
On January 10th Floyd Leach (Vice Commander) and Len Parsons (Quartermaster) traveled to Bend to assist with this effort. Both were amazed at how efficient and organized the packing process is conducted! Shipping each pacage costs approximately $11 to mail to the troops. Multiply that by nearly 300 packages since November - over $3000 just in postage! Caring for Troops needs all the help they can get to cover these expenses. Click the link above to help them if you can! VFW Post 12141 certainly thanks them for helping us get our donations to the troops!